Jewelry
9 Veils for Every Type of Bride
Jordan Strohl and Rachel Aschenbrand-Robinson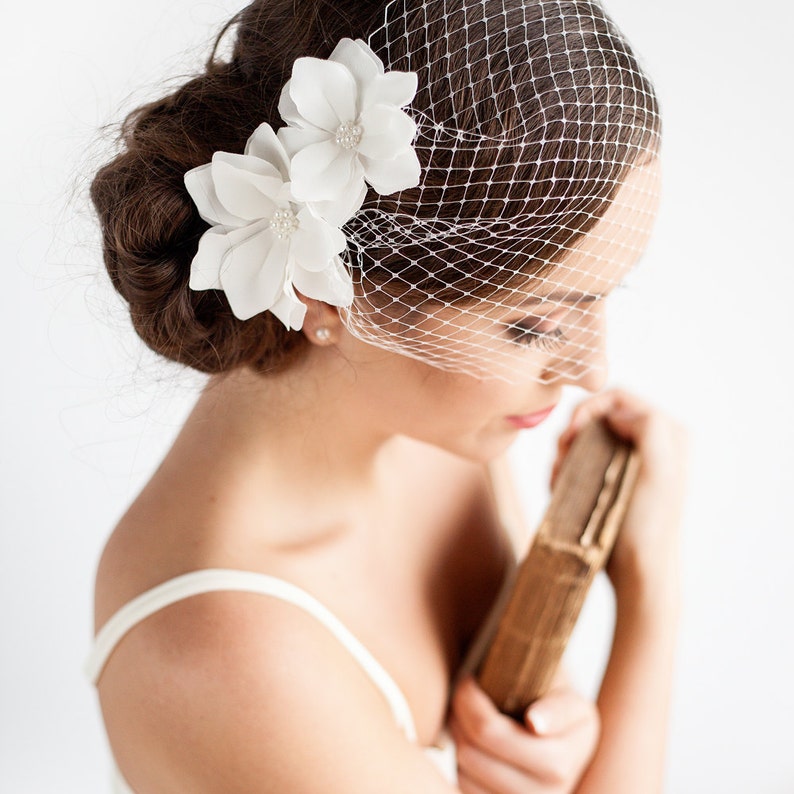 We've collected 9 different types of veils to adorn your wedding day look.
Few fashion statements are as beautifully timeless as a bride wearing a veil. While some modern brides seek an alternative bridal headpiece, the veil remains the gold standard as the finishing touch to the most important dress you'll likely ever wear. The right veil is a defining aspect of your bridal ensemble. Once you've decided to wear a veil, you'll need to consider your dress, face shape and hairstyle to make the perfect selection. (Don't forget your bridesmaids and flower girls: They won't be donning veils, but their headpieces should harmonize with yours.) Here, we describe nine different types of veils, from the abbreviated birdcage veil to the floor-length chapel veil, and give you an array of choices from Etsy, David's Bridal, Nordstrom and more.
Birdcage Veil: If you swoon for all things retro, the birdcage veil is the perfect accessory for you. Paired with a bold lip and vintage-inspired accessories, the birdcage veil will make a lasting impression on your groom and your guests. Remember: There is no standard shape or size to a caged veil, so try on a few with your wedding dress to make sure you find one that you love.
Blusher Veil: Do you love the drama and suspense of waiting for your groom to lift your veil? The blusher veil is for you! Not only does this style add volume to an elegant updo, but the blusher veil also is somehow both classic and modern all at once. See more lovely blusher veil inspiration here.
Juliet Cap: Into the bohemian bridal vibe? Try a Juliet cap veil. One of the more historically classic options, this type of veil looks great with your hair down and will have you feeling like something out of a — you guessed it— Shakespeare novel.
Shoulder-Length Veil: This veil is fun and playful — and ideal if you're committed to having a traditional-looking veil but don't want it getting in the way of your sweet dance moves. It's a flirty option that won't cover up or take away from your gown.
Elbow-Length Veil: Looking to cover your shoulders or frame your face? The elbow-length veil is the best choice. It's also great for enhancing details around your waist or complementing a hairstyle. Paired with a minimalist dress and your killer smile, your groom won't be able to take his eyes off of you.
Fingertip Veil: This is the perfect length for a bride who wants a longer veil that isn't too cumbersome. Feel free to wear this airy accessory with any hairstyle from loose waves to a sleek chignon.
Waltz Veil: Also known as ballet veils, waltz-length veils fall somewhere in between your fingertips and the floor — and are perfect for capturing those dramatic windswept photos you've been eyeing on Pinterest. Bonus: They can be easily worn with any hairstyle.
Chapel Veil: A chapel-length veil is typically a little longer than floor length, adding drama and elegance to your walk down the aisle. Keep in mind that a long tulle veil wrinkles easily, so be sure to have it steamed before your wedding day to ensure a smooth, finished look.
Cathedral Veil: Worn at more formal weddings, the cathedral veil is the longest and usually most detailed. Its more traditional history doesn't mean that you can't wear it with a floral crown or a modern dress, as shown below. But bear in mind, the longer the veil, the harder it is to move in — so you might want to take it off or switch to a shorter option for the reception.
Credits:   Tanis Katie Photography   |   Intuitive Images Photography   |   Twah Dougherty   |   Serephine   |   Melinda Rose Design   |   J-Picone   |   Smith A Menon Bridal   |   Gilded Shadows   |   Ashlee Rene Photography   |   Melinda Rose Design   |   Lucy Birkhead Photography   |   Smitten Photography   |   Jannie Baltzer   |   Maria Mack   |   Priscila Valentina   |   Palm Beach Photography Inc.   |   Percy Handmade   |   Bamber Photography   |   Jennifer Fujikawa Photography   |   Alixann Loosle Photography   |   Erica Elizabeth Designs   |   Kelli Elizabeth   |   Carlie Statsky Photography   |   Jose Villa   |   Maria Hibbs Photography   |   Tamiz Photography
Each product we feature has been independently selected and reviewed by our editorial team. If you make a purchase using the links included, we may earn commission.